Show results for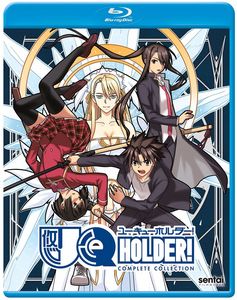 Uq Holder
(Subtitled, Anamorphic)
Release

11/12/2018

Film and TV Genre

Anime-Japanese

Media Format

Blu-ray

Please be advised. Unless otherwise stated, all BLU-RAY are REGION A and all DVD are REGION 1 encoding. Before purchasing, please ensure that your equipment can playback these regions. For more information on region encoding, please click the link below:
Product Notes
When you're the grandson of a famous hero, you'd think that your life would be interesting, but Tota Konoe is stuck in the dullest place he can imagine! He can't even leave his tiny village until he can defeat his teacher and foster parent Yukihime, and she seems to be impossibly powerful. Then everything changes when Yukihime is attacked and Tota learns that both she and Tota himself aren't who or what Tota thought they were! Now Tota has a new, impossibly long life ahead of him and an amazing destiny that ties in with the fate of his grandfather, the legendary Negi Springfield! Get ready for vampires, demons and magic users galore as Tota discovers the perils of being a member of the world's most exclusive organization as a UQ Holder!
UQ Holder! contains episodes 1-12 of the anime directed by Youhei Suzuki plus OVA episodes 1-3.
Details
Publisher: SENTAI FILMWORKS
Media: Blu-ray
Spoken Language: English, Japanese
Subtitle Language: English
Genre: Action, Fantasy
Themes: Adventure
Age Rating: 17+
Run Time: 375
Release Date: 11/27/2018
Dimensional Weight: 0.23
Region Code: A
UQ Holder! Blu-ray