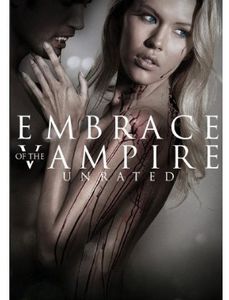 Embrace of the Vampire
Release

15/10/2013

Film and TV Genre

Horror-Monsters

Media Format

DVD

Please be advised. Unless otherwise stated, all BLU-RAY are REGION A and all DVD are REGION 1 encoding. Before purchasing, please ensure that your equipment can playback these regions. For more information on region encoding, please click the link below:
Product Notes
Sharon Hinnendael (LOOK) stars as Charlotte, a timid and sheltered teen who has just left an all-girls Catholic school for a new life at a co-ed university. But an ancient evil has followed her here, tormenting her with disturbing nightmares and tempting her with forbidden desires. It is a hunger that can only be satiated by sensual pleasures of the flesh and a thirst for blood. It's a battle for her soul and one she's losing. But Charlotte is a fighter. The chaos and torment threatens to unleash her own inner beast, and anyone even close to her may find themselves embracing their own horrific fate. Tiio Horn (DEFIANCE, HEMLOCK GROVE), C.C. Sheffield (TRUE BLOOD), Chelsey Marie Reist (12 ROUNDS: RELOADED) and Victor Webster (CONTINUUM, CASTLE) co-star in this startling remake of the 90s erotic horror classic.