Show results for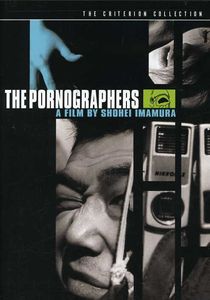 Pornographers (Criterion Collection)
Release

21/03/2010

Film and TV Genre

Comedy Video, Foreign-Japanese

Media Format

DVD

Please be advised. Unless otherwise stated, all BLU-RAY are REGION A and all DVD are REGION 1 encoding. Before purchasing, please ensure that your equipment can playback these regions. For more information on region encoding, please click the link below:
Product Notes
Subu makes pornographic films. He sees nothing wrong with it. They are an aid to a repressed society, and he uses the money to support his landlady, Haru, and her family. From time to time, Haru shares her bed with Subu, though she believes her dead husband, reincarnated as a carp, disapproves. Director Shohei Imamura has always delighted in the kinky exploits of lowlifes, and in this 1966 classic, he finds subversive humor in the bizarre dynamics of Haru, her Oedipal son, and her daughter, the true object of her pornographer-boyfriend's obsession. Imamura's comic treatment of such taboos as voyeurism and incest sparked controversy when the film was released, but the Pornographers has outlasted it's critics, and now seems ahead of it's time.