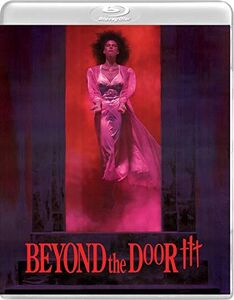 Beyond The Door 3
(With DVD, 2 Pack, Widescreen)
Release

28/01/2020

Film and TV Genre

Horror, Comedy Video

Media Format

Blu-ray

Please be advised. Unless otherwise stated, all BLU-RAY are REGION A and all DVD are REGION 1 encoding. Before purchasing, please ensure that your equipment can playback these regions. For more information on region encoding, please click the link below:
Product Notes
Shy American college co-ed, Beverly Putnic, has been invited to go on a class trip to a remote part of Yugoslavia to witness and take part in an ancient cultural rite. But what Beverly doesn't know is that she's actually being lured to Europe in order to be made the bride of Satan! Narrowly escaping from the clutches of a witch, Beverly and her classmates take refuge on a train. Unfortunately, black magic meets them at every turn as the train becomes possessed and begins offing them one by one. From the truly unhinged minds of maverick exploitation producer Ovidio Assonitis (Beyond the Door, The Visitor) and writer-director Jeff Kwitny (Iced), BEYOND THE DOOR 3 (originally known as AMOK TRAIN) is an exploitation roller-coaster that never stops one-upping it's own insanity. Chock full of completely outrageous gore effects, bizarre and often surreal plot twists, and a wholly whacked out ending, Vinegar Syndrome is elated to present the world Blu-ray debut of this notorious slice of Euro-horror in a brand new 4K restoration of it's original negative.
Description
| | |
| --- | --- |
| Title: | Beyond The Door 3 |
| Genre: | Horror, Comedy Video |
| Starring: | Bo Svenson |
| Studio: | Vinegar Syndrome |
| Number of Discs: | 2 |
| Attributes: | With DVD, 2 Pack, Widescreen |
| Release Date: | 28/01/2020 |
| Media Format: | Blu-ray |
| Rated: | R |
| UPC: | 814456022321 |
| Original Language: | ENG |
| Subtitles: | ENG |
| Run Time: | 94 minutes |
| Year of Release: | 1989 |